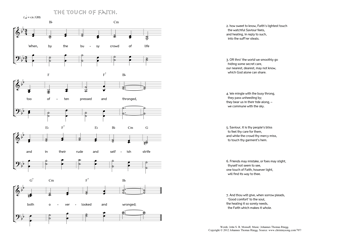 Christ My Song - 707
When, by the busy crowd of life - The touch of Faith
(John S. B. Monsell/Johannes Thomas Rüegg)
The touch of Faith.
Be of good comfort; thy faith hath made thee whole.
(Matthew 9,22)
1. When, by the busy crowd of life
too often pressed and thronged,
and in their rude and selfish strife
both overlooked and wronged; (PDF - Midi)
2. how sweet to know, Faith's lightest touch
the watchful Saviour feels,
and healing, in reply to such,
into the suff'rer steals.
3. Oft thro' the world we smoothly go
hiding some secret care,
our nearest, dearest, may not know,
which God alone can share.
4. We mingle with the busy throng,
they pass unheeding by;
they bear us in their tide along, –
we commune with the sky.
5. Saviour, it is thy people's bliss
to feel thy care for them,
and while the crowd thy mercy miss,
to touch thy garment's hem.
6. Friends may mistake, or foes may slight,
thyself not seem to see,
one touch of Faith, however light,
will find its way to thee.
7. And thou wilt give, when sorrow pleads,
'Good comfort' to the soul,
the healing it so sorely needs,
the Faith which makes it whole.
John S. B. Monsell, 'Spiritual Songs', 1864, 167-168.