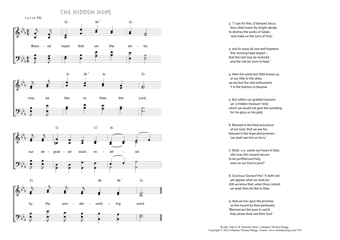 Christ My Song - 710
Blessed hope! that we the sinful - The hidden hope
(John S. B. Monsell/Johannes Thomas Rüegg)
The hidden hope.
And every man that hath this hope in him purifieth himself, even as he is pure. (1 John 3,3)
1. Blessed hope! that we the sinful
may be like to thee the Lord,
our degraded souls exalted
by thy wonder-working word. (PDF - Midi)
2. 'T was for this, O blessed Jesus,
thou didst leave thy bright abode,
to destroy the works of Satan,
'and make us the sons of God,'
3. and to souls all lost and hopeless
this reviving hope impart –
that the lost may be restorèd
and the vile be 'pure in heat.'
4. Here the world but little knows us,
or our title to the skies,
we are but the wild enthusiasts
't is the fashion to despise.
5. But within our grateful bosoms
we 'a hidden treasure' hold,
which we would not give the worldling
for his glory or his gold.
6. Blessed is the fond assurance
of our God, that we are his,
blessed is the hope and promise –
'we shall see him as he is.'
7. Shall we waste our hours in folly
who may this reward secure,
to be purified and holy,
even as our God is pure?
8. Gracious Saviour! tho' 'it doth not
yet appear what we shall be,'
still we know that, when thou comest
we shall then be like to thee.
9. And we live upon the promise
on the mount by thee bestowed,
'blessed are the pure in spirit,
they alone shall see their God.'
John S. B. Monsell, 'Spiritual Songs', 1864, 34-35.