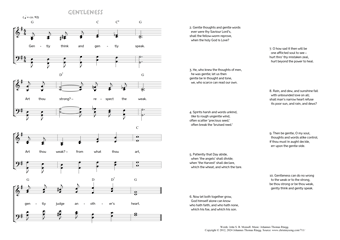 Christ My Song - 711
Gently think and gently speak - Gentleness
(John S. B. Monsell/Johannes Thomas Rüegg)
Gentleness.
Let both grow together until the harvest. (Matthew 13,30)
1. Gently think and gently speak.
Art thou strong? – respect the weak.
Art thou weak? – from what thou art,
gently judge another's heart. (PDF - Midi)
2. Gentle thoughts and gentle words
ever were thy Saviour Lord's,
shall the fellow-worm reprove,
when the holy God is Love?
3. He, who knew the thoughts of men,
he was gentle; let us then
gentle be in thought and tone,
we, who scarce can read our own.
4. Spirits harsh and words unkind,
like to rough ungentle wind,
often scatter 'precious seed,'
often break the 'bruised reed.'
5. Patiently that Day abide,
when 'the angels' shall divide;
when 'the Harvest' shall declare,
which the wheat, and which the tare.
6. Now let both together grow,
God himself alone can know
who hath faith, and who hath none,
which his foe, and which his son.
7. O how sad it then will be
one afflicted soul to see –
hurt thro' thy mistaken zeal,
hurt beyond the power to heal.
8. Rain, and dew, and sunshine fall
with unbounded love on all;
shall man's narrow heart refuse
its poor sun, and rain, and dews?
9. Then be gentle, O my soul,
thoughts and words alike control;
if thou must in aught decide,
err upon the gentle side.
10. Gentleness can do no wrong
to the weak or to the strong,
be thou strong or be thou weak,
gently think and gently speak.
John S. B. Monsell, 'Spiritual Songs', 1864, 32-33.