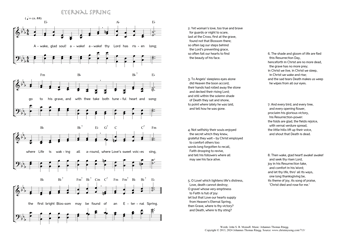 Christ My Song - 713
Awake, glad soul! awake! awake! - Eternal Spring
(John S. B. Monsell/Johannes Thomas Rüegg)
Eternal Spring.
Easter Day.
Arise, shine; for thy light is come, and the glory of the Lord is risen upon thee. (Isaiah 60,1)
1. Awake, glad soul! awake! awake!
thy Lord has risen long;
go to his grave, and with thee take
both tuneful heart and song:
where Life is waking all around,
where Love's sweet voices sing,
the first bright Blossom may be found
of an Eternal Spring. (PDF - Midi)
2. Yet woman's love, too true and brave
for guards or night to scare,
last at the Cross, first at the grave,
found not that Blossom there;
so often lag our steps behind
the Lord's preventing grace,
so often fail our hearts to find
the beauty of his face.
3. To Angels' sleepless eyes alone
did Heaven the boon accord,
their hands had rolled away the stone
and decked their rising Lord;
and still within the solemn shade
of Death they sat and shone,
to point where lately he was laid,
and tell how he was gone.
4. Not selfishly their souls enjoyed
the secret which they knew,
grateful they wait – by Christ employed
to comfort others too:
words long forgotten to recall,
Faith drooping to revive,
and tell his followers where all
may see his face alive.
5. O Love! which lightens life's distress,
Love, death cannot destroy;
O grave! whose very emptiness
to Faith is full of joy:
let but that Love our hearts supply
from Heaven's Eternal Spring,
then Grave, where is thy victory?
and Death, where is thy sting?
6. The shade and gloom of life are fled
this Resurrection Day,
henceforth in Christ are no more dead,
the grave has no more prey;
in Christ we live, in Christ we sleep,
in Christ we wake and rise;
and the sad tears Death makes us weep
he wipes from all our eyes.
7. And every bird, and every tree,
and every opening flower,
proclaim his glorious victory,
his Resurrection-power:
the folds are glad, the fields rejoice,
with vernal verdure spread,
the little hills lift up their voice,
and shout that Death is dead.
8. Then wake, glad heart! awake! awake!
and seek thy risen Lord,
joy in his Resurrection take,
and comfort in his Word;
and let thy life, thro' all its ways,
one long thanksgiving be,
its theme of joy, its song of praise,
'Christ died and rose for me.'
John S. B. Monsell, 'Spiritual Songs', 1864, 74-76.