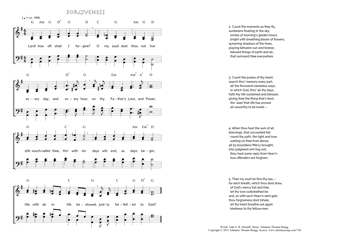 Christ My Song - 720
Lord! how oft shall I forgive? - Forgiveness
(John S. B. Monsell/Johannes Thomas Rüegg)
Forgiveness.
Lord, how oft shall my brother sin against me, and I forgive him? till seven times? Jesus saith unto him, I say not unto thee, Until seven times; but, Until seventy times seven. (Matthew 18,21-22)
1. Lord! how oft shall I forgive?
O my soul! dost thou not live
every day, and every hour,
on thy Father's Love, and Power,
still vouchsafed thee, tho' with sin
days will end, as days begin;
life, with all in life bestowed,
justly forfeited to God? (PDF - Midi)
2. Count the moments as they fly,
sunbeams floating in the sky;
smiles of morning's golden hours,
bright with breathing bloom of flowers;
quivering shadows of the trees,
playing between sun and breeze;
blessed things of earth and air,
that surround thee everywhere.
3. Count the pulses of thy heart,
search thro' memory every part,
all the thousand nameless ways,
in which God, thro' all thy days,
hath thy life sustained and blessed,
giving thee the thing that's best,
tho' alas! that life has proved
all unworthy to be loved: –
4. When thou hast the sum of all
blessings, that uncounted fall
round thy path, the light and love
waiting on thee from above,
all by boundless Mercy brought,
into judgment ent'ring not;
thou hast som reply from Heav'n
how offenders are forgiven.
5. Then my soul! be this thy law, –
for each breath, which thou dost draw,
of God's mercy full and free,
let thy love outbrèathed be;
and, as with each Heav'n-sent gale
thou forgiveness dost inhale,
let thy heart breathe out again
kindness to thy fellow-men.
John S. B. Monsell, 'Spiritual Songs', 1864, 163-164.