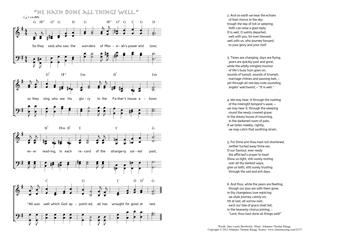 Christ My Song - 724
So they said, who saw the wonders - It is well
(Jane Laurie Borthwick/Johannes Thomas Rüegg)
It is well.
"He hath done all things well." (Mark 7,37)
1. So they said, who saw the wonders
of Messiah's power and love; –
so they sing, who see his glory
in the Father's house above;
ever reading, in each record
of the strangely varied past,
"All was well which God appointed,
all has wrought for good at last." PDF - Midi)
2. And on earth we hear the echoes
of that chorus in the sky;
trough the day of toil or weeping,
faith can raise a glad reply.
It is well, O saints departed,
well with you, for ever blessed;
well with us, who journey forward
to your glory and your rest!
3. Times are changing, days are flying,
years are quickly past and gone,
while the wildly mingled murmur
of life's busy hum goes on;
sounds of tumult, sounds of triumph,
marriage chimes and passing-bell, –
yet through all one key-note sounding,
angels' watchword, – "It is well."
4. We may hear, it through the rushing
of the midnight tempest's wave, –
we may hear it, through the weeping
round the newly covered grave;
in the dreary house of mourning,
in the darkened room of pain,
if we listen meekly, rightly,
we may catch that soothing strain.
5. For thine arm thou hast not shortened,
neither turned away thine ear,
O our Saviour, ever ready
the afflicted's prayer to hear!
Show us light, still surely resting
over all thy darkest ways;
give us faith, still surely trusting
through the sad and evil days.
6. And thus, while the years are fleeting,
though our joys are with them gone,
in thy changeless love rejoicing
we shall journey calmly on;
till at last, all sorrow over,
each our tale of grace shall tell,
in the heavenly chorus joining, –
"Lord, thou hast done all things well!"
(5,3 "our" and 6,1 "the" are missing in the original text.)
H.L.L., alias Jane Laurie Borthwick, Thoughtful Hours, 1863, 23-25.