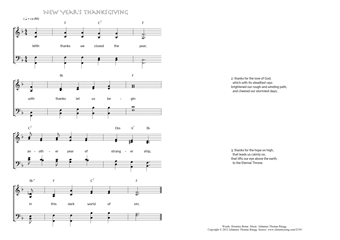 Christ My Song - 726
With thanks we closed the year - New Year's thanksgiving
(Horatius Bonar/Johannes Thomas Rüegg)
New Year's thanksgiving.
1. With thanks we closed the year;
with thanks let us begin
another year of strangership,
in this dark world of sin; (PDF - Midi)
2. thanks for the love of God;
which with its steadfast rays
brightened our rough and winding path,
and cheered our stormiest days;
3. thanks for the hope on high,
that leads us calmly on,
that lifts our eye above the earth,
to the Eternal Throne.
Horatius Bonar, "Until the Day break", 1890, 177.