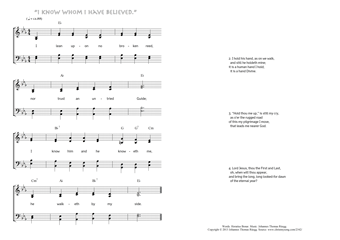 Christ My Song - 729
I lean upon no broken reed - I know whom I have believed
(Horatius Bonar/Johannes Thomas Rüegg)
"I know whom I have believed."
1. I lean upon no broken reed,
nor trust an untried Guide;
I know him and he knoweth me,
he walketh by my side. (PDF - Midi)
2. I hold his hand, as on we walk,
and still he holdeth mine;
it is a human hand I hold;
it is a hand Divine.
3. "Hold thou me up," is still my cry,
as o'er the rugged road
of this my pilgrimage I move,
that leads me nearer God.
4. Lord Jesus, thou the First and Last,
oh, when wilt thou appear,
and bring the long, long looked-for dawn
of the eternal year?
Horatius Bonar, "Until the Day break", 1890, 76-77.