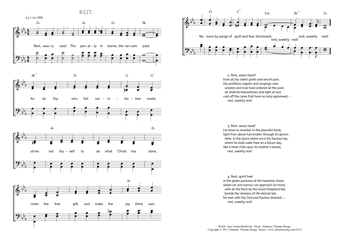 Christ My Song - 738
Rest, weary soul! - Rest
(Jane Laurie Borthwick/Johannes Thomas Rüegg)
Rest.
"We which have believed do enter into rest." (Hebrews 4,3)
1. Rest, weary soul!
The penalty is borne, the ransom paid,
for all thy sins full satisfaction made;
strive not thyself to do what Christ has done,
claim the free gift, and make the joy thine own.
No more by pangs of guilt and fear distressed,
rest, sweetly rest! PDF - Midi)
2. Rest, weary heart!
from all thy silent griefs and secret pain,
thy profitless regrets and longings vain;
wisdom and love have ordered all the past,
all shall be blessedness and light at last;
cast off the cares that have so long oppressed, –
rest, sweetly rest!
3. Rest, weary head!
Lie down to slumber in the peaceful tomb,
light from above has broken through its gloom.
Here, in the place where once thy Saviour lay,
where he shall wake thee on a future day,
like a tired child upon its mother's breast,
rest, sweetly rest!
4. Rest, spirit free!
in the green pastures of the heavenly shore,
where sin and sorrow can approach no more;
with all the flock by the Good Shepherd fed,
beside the streams of life eternal led,
for ever with thy God and Saviour blessed, –
rest, sweetly rest!
H.L.L., alias Jane Laurie Borthwick, Thoughtful Hours, 1863, 51-52.