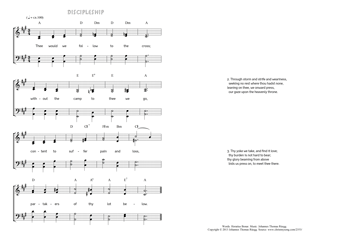 Christ My Song - 740
Thee would we follow to the cross - Discipleship
(Horatius Bonar/Johannes Thomas Rüegg)
Discipleship.
1. Thee would we follow to the cross;
without the camp to thee we go,
content to suffer pain and loss,
partakers of thy lot below. (PDF - Midi)
2. Through storm and strife and weariness,
seeking no rest where thou hadst none,
leaning on thee, we onward press,
our gaze upon the heavenly throne.
3. Thy yoke we take, and find it love;
thy burden is not hard to bear;
thy glory beaming from above
bids us press on, to meet thee there.
Horatius Bonar, "Until the Day break", 1890, 86.