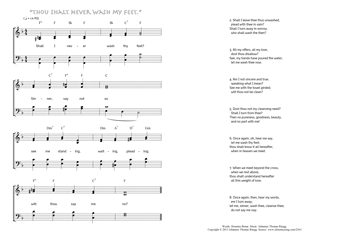 Christ My Song - 748
Shall I never wash thy feet? - Thou shalt never wash my feet
(Horatius Bonar/Johannes Thomas Rüegg)
"Thou shalt never wash my feet."
(John 13,8)
1. Shall I never wash thy feet?
Sinner, say not so.
see me standing, waiting, pleading;
wilt thou say me no? (PDF - Midi)
2. Shall I leave thee thus unwashed,
plead with thee in vain?
Shall I turn away in sorrow,
who shall wash the then?
3. All my offers, all my love,
dost thou disallow?
See, my hands have poured the water;
let me wash thee now.
4. Am I not sincere and true,
speaking what I mean?
See me with the towel girded;
wilt thou not be clean?
5. Dost thou not my cleansing need?
Shall I turn from thee?
Then no pureness, goodness, beauty,
and no part with me!
6. Once again, oh, hear me say,
let me wash thy feet;
thou shalt know it all hereafter,
when in heaven we meet.
7. When we meet beyond the cross,
when we rest above,
thou shalt understand hereafter
all this weight of love.
8. Once again, then, hear my words,
ere I turn away;
let me, sinner, wash thee, cleanse thee;
do not say me nay.
Horatius Bonar, "Until the Day break", 1890, 34-36.