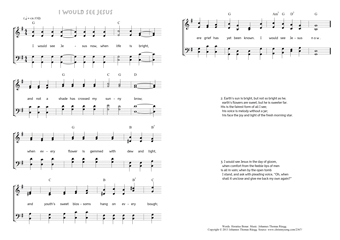 Christ My Song - 754
I would see Jesus now, when life is bright - I would see Jesus
(Horatius Bonar/Johannes Thomas Rüegg)
I would see Jesus.
1. I would see Jesus now, when life is bright,
and not a shade has crossed my sunny brow;
when every flower is gemmed with dew and light,
and youth's sweet blossoms hang on every bough;
ere grief has yet been known. I would see Jesus n o w . (PDF - Midi)
2. Earth's sun is bright, but not so bright as he;
earth's flowers are sweet, but he is sweeter far.
His is the fairest form of all I see;
his voice is melody without a jar;
his face the joy and light of the fresh morning star.
3. I would see Jesus in the day of gloom,
when comfort from the feeble lips of men
is all in vain; when by the open tomb
I stand, and ask with pleading voice, "Oh, when
shall it unclose and give me back my own again?"
Horatius Bonar, "Until the Day break", 1890, 51-52.