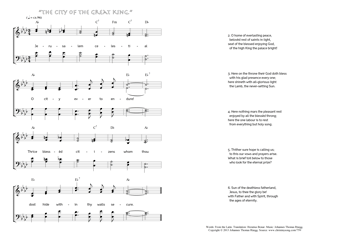 Christ My Song - 759
Jerusalem celestial - The City of the Great King
(Horatius Bonar/Johannes Thomas Rüegg)
"The City of the Great King."
(From the Latin)
"Cœlestis, O Jerusalem!
Mansura semper civitas;
O ter beati quos tuis
Cives recondis mœnibus." (PDF - Midi)
1. Jerusalem celestial
O city ever to endure!
Thrice blessèd citizens whom thou
dost hide within thy walls secure.
2. O home of everlasting peace,
belovèd rest of saints in light,
seat of the blessed enjoying God,
of the high King the palace bright!
3. Here on the throne their God doth bless
with his glad presence every one;
here shineth with all-glorious light
the Lamb, the never-setting Sun.
4. Here nothing mars the pleasant rest
enjoyed by all the blessèd throng;
here the one labour is to rest
from everything but holy song.
5. Thither sure hope is calling us;
to this our vows and prayers arise.
What is brief toil below to those
who look for the eternal prize?
6. Sun of the deathless fatherland,
Jesus, to thee the glory be!
with Father and with Spirit, through
the ages of eternity.
Horatius Bonar, "Until the Day break", 1890, 136-137.