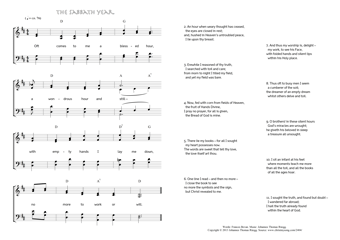 Christ My Song - 791
Oft comes to me a blessed hour - The Sabbath year
(Frances Bevan/Johannes Thomas Rüegg)
The Sabbath year.
Hebrews 4,10.
1. Oft comes to me a blessed hour,
a wondrous hour and still –
with empty hands I lay me down,
no more to work or will. (PDF - Midi)
2. An hour when weary thought has ceased,
the eyes are closed in rest;
and, hushed in Heaven's untroubled peace,
I lie upon thy breast.
3. Erewhile I reasoned of thy truth,
I searched with toil and care;
from morn to night I tilled my field,
and yet my field was bare.
4. Now, fed with corn from fields of Heaven,
the fruit of Hands Divine,
I pray no prayer, for all is given,
the Bread of God is mine.
5. There lie my books – for all I sought
my heart possesses now.
The words are sweet that tell thy love,
the love itself art thou.
6. One line I read – and then no more –
I close the book to see
no more the symbols and the sign,
but Christ revealed to me.
7. And thus my worship is, delight –
my work, to see his Face,
with folded hands and silent lips
within his Holy place.
8. Thus oft to busy men I seem
a cumberer of the soil;
the dreamer of an empty dream
whilst others delve and toil.
9. O brothers! in these silent hours
God's miracles are wrought;
he giveth his beloved in sleep
a treasure all unsought.
10. I sit an infant at his feet
where moments teach me more
than all the toil, and all the books
of all the ages hoar.
11. I sought the truth, and found but doubt –
I wandered far abroad;
I hail the truth already found
within the heart of God.
Frances Bevan, Hymns of Ter Steegen, Suso and others 1, 1899, 32-34.