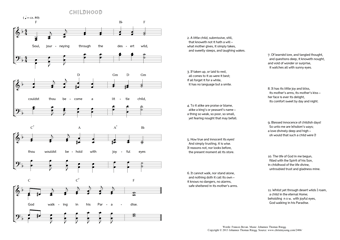 Christ My Song - 793
Soul, journeying through the desert wild - Childhood
(Frances Bevan/Johannes Thomas Rüegg)
Childhood.
Mark 10, 13+16.
1. Soul, journeying through the desert wild,
couldst thou become a little child,
thou wouldst behold with joyful eyes
God walking in his Paradise. (PDF - Midi)
2. A little child, submissive, still,
that knoweth not it hath a will –
what mother gives, it simply takes,
and sweetly sleeps, and laughing wakes.
3. If taken up, or laid to rest,
all comes to it as were it best;
if all forget it for a while,
it has no language but a smile.
4. To it alike are praise or blame,
alike a king's or peasant's name –
a thing so weak, so poor, so small,
yet fearing nought that may befall.
5. How true and innocent its eyes!
And simply trusting, it is wise.
It reasons not, nor looks before,
the present moment all its store.
6. It cannot walk, nor stand alone,
and nothing doth it call its own –
it knows no dangers, no alarms,
safe sheltered in its mother's arms.
7. Of learnèd lore, and tangled thought,
and questions deep, it knoweth nought,
and void of wonder or surprise,
it watches all with sunny eyes.
8. It has its little joy and bliss,
its mother's arms, its mother's kiss –
her face is ever its delight,
its comfort sweet by day and night.
9. Blessed innocence of childish days!
So unto me are Wisdom's ways;
a love divinely deep and high –
oh would that such a child were I!
10. The life of God in me begun,
filled with the Spirit of his Son,
in childhood of the life divine,
untroubled trust and gladness mine.
11. Whilst yet through desert wilds I roam,
a child in the eternal Home;
beholding n o w, with joyful eyes,
God walking in his Paradise.
Frances Bevan, Hymns of Ter Steegen, Suso and others 1, 1899, 135-136.