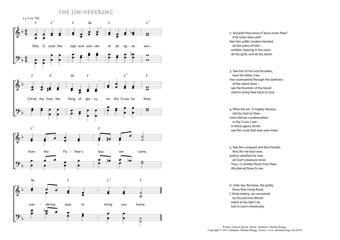 Christ My Song - 797
Still, O soul! the sign and wonder - The sin-offering
(Frances Bevan/Johannes Thomas Rüegg)
The sin-offering.
Matthew 27,46.
1. Still, O soul! the sign and wonder
of all ages see –
Christ, thy God, the King of glory,
on the Cross for thee;
from the Father's bosom come,
wandering soul, to bring you home. (PDF - Midi)
2. Wouldst thou know if Jesus loves thee?
if he loves thee well?
See him suffer, broken-hearted,
all the pains of hell –
smitten, bearing in thy room
all thy guilt, and all thy doom.
3. See him of his God forsaken,
hear his bitter cries
rise unanswered through the darkness
of the silent skies –
see the fountain of the blood
shed to bring thee back to God.
4. Mine the sin, O mighty Saviour,
laid by God on thee –
mine eternal condemnation
in thy Cross I see –
in thine agony divine
see the curse that else were mine.
5. See the conquest and the triumph
thou for me hast won;
justice satisfied for ever,
all God's pleasure done.
Thus, O smitten Rock! from thee,
life eternal flows to me.
6. Unto me, the base, the guilty,
flows that living flood;
I, thine enemy, am ransomed
by thy precious Blood.
silent at thy feet I lie,
lost in love's immensity.
Frances Bevan, Hymns of Ter Steegen, Suso and others 1, 1899, 25-26.