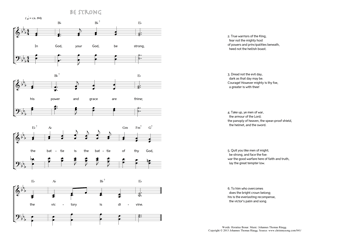 Christ My Song - 841
In God, your God, be strong - Be strong
(Horatius Bonar/Johannes Thomas Rüegg)
Be strong.
1. In God, your God, be strong,
his power and grace are thine;
the battle is the battle of thy God,
the victory is divine. (PDF - Midi)
2. True warriors of the King,
fear not the mighty host
of powers and principalities beneath,
heed not the hellish boast.
3. Dread not the evil day,
dark as that day may be.
Courage! However mighty is thy foe,
a greater is with thee!
4. Take up, ye men of war,
the armour of the Lord;
the panoply of heaven, the spear-proof shield,
the helmet, and the sword.
5. Quit you like men of might;
be strong, and face the foe:
war the good warfare here of faith and truth,
lay the great tempter low.
6. To him who overcomes
does the bright crown belong;
his is the everlasting recompense,
the victor's palm and song.
Horatius Bonar, The Song of the New Creation, 1872, 149-150.