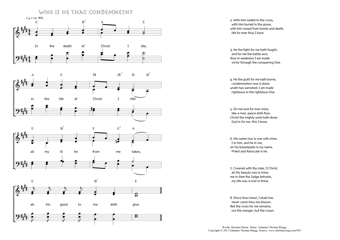 Christ My Song - 845
In the death of Christ I die - Who is he that condemneth?
(Horatius Bonar/Johannes Thomas Rüegg)
Who is he that condemneth?
1. In the death of Christ I die;
in the life of Christ I life!
all my ill he from me takes,
all his good to me doth give. (PDF - Midi)
2. With him nailèd to the cross,
with him buried in the grave,
with him raised from bonds and death,
life for ever thus I have.
3. He the fight for me hath fought,
and for me the battle won;
thus in weakness I am made
victor through the conquering One.
4. He the guilt for me hath borne,
condemnation now is done:
wrath has vanished; I am made
righteous in the righteous One.
5. On me love for ever rests;
like a river, peace doth flow:
Christ the mighty work hath done;
God is for me, this I know.
6. His name now is one with mine,
I in him, and he in me;
on his breastplate is my name,
Priest and Advocate is he.
7. Covered with thy robe, O Christ,
all thy beauty now is mine;
me in thee the Judge beholds,
my life now is lost in thine.
8. Since thou livest, I shall live;
never canst thou me disown.
Not the cross for me remains,
nor the manger, but the crown.
Horatius Bonar, The Song of the New Creation, 1872, 132-133.