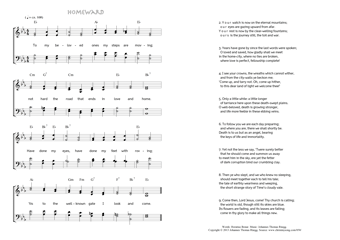 Christ My Song - 850
To my beloved ones my steps are moving - Homeward
(Horatius Bonar/Johannes Thomas Rüegg)
Homeward.
1. To my beloved ones my steps are moving;
not hard the road that ends in love and home.
Have done my eyes, have done my feet with roving;
'tis to the well-known gate I look and come. (PDF - Midi)
2. Y o u r watch is now on the eternal mountains;
o u r eyes are gazing upward from afar.
Y o u r rest is now by the clear-welling fountains;
o u r s is the journey still, the toil and war.
3. Years have gone by since the last words were spoken;
O loved and saved, how gladly shall we meet
in the home-city, where no ties are broken,
where love is perfect, fellowship complete!
4. I see your crowns, the wreaths which cannot wither,
and from the city-walls ye beckon me;
'Come up, and tarry not. Oh, come up hither,
to this dear land of light we welcome thee!'
5. Only a little while: a little longer
of tarriance here upon these death-swept plains.
O well-beloved, death is growing stronger,
and life more feeble in these ebbing veins.
6. To follow you we are each day preparing;
and where you are, there we shall shortly be.
death is to us but as an angel, bearing
the keys of life and immortality.
7. Yet not the less we say, 'Twere surely better
that he should come and summon us away
to meet him in the sky, ere yet the fetter
of dark corruption bind our crumbling clay.
8. Then ye who slept, and we who knew no sleeping,
should meet together each to tell his tale;
the tale of earthly weariness and weeping,
the short strange story of Time's cloudy vale.
9. Come then, Lord Jesus, come! Thy church is calling;
the world is old, though still its skies are blue.
Its flowers are fading, and its leaves are falling;
come in thy glory to make all things new.
Horatius Bonar, The Song of the New Creation, 1872, 22-24.