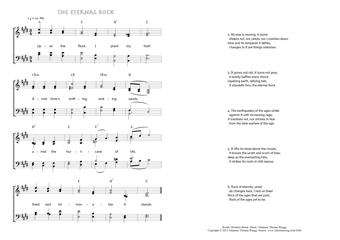 Christ My Song - 853
Upon the Rock I plant my foot! - The eternal Rock
(Horatius Bonar/Johannes Thomas Rüegg)
The eternal Rock.
1. Upon the Rock I plant my foot!
Amid time's shifting, sinking sands,
amid the hurricane of life,
fixed and immovable it stands. (PDF - Midi)
2. All else is moving; it alone
shakes not, nor yields, nor crumbles down:
time and its tempests it defies;
changes to it are things unknown.
3. It grows not old, it turns not grey;
it boldly baffles every shock:
repelling earth, defying hell,
it standeth firm, the eternal Rock.
4. The earthquakes of the ages strike
against it with increasing rage;
it trembles not, nor shrinks in fear
from the dark warfare of the age.
5. It lifts its head above the clouds,
it braves the wrath and scorn of foes;
deep as the everlasting hills,
it strikes its roots in still repose.
6. Rock of eternity, amid
all changes here, I rest on thee!
Rock of the ages that are past,
Rock of the ages yet to be.
Horatius Bonar, The Song of the New Creation, 1872, 135-136.