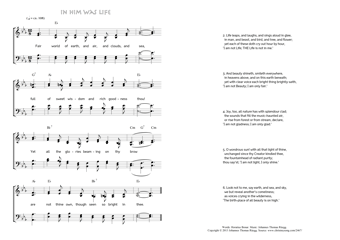 Christ My Song - 854
Fair world of earth, and air, and clouds, and sea - In him was life
(Horatius Bonar/Johannes Thomas Rüegg)
In him was life.
1. Fair world of earth, and air, and clouds, and sea,
full of sweet wisdom and rich goodness thou!
Yet all the glories beaming on thy brow
are not thine own, though seen so bright in thee. (PDF - Midi)
2. Life leaps, and laughs, and sings aloud in glee,
in man, and beast, and bird, and tree, and flower;
yet each of these doth cry out hour by hour,
'I am not Life; THE Life is not in me.'
3. And beauty shineth, smileth everywhere,
in heavens above, and on this earth beneath;
yet with clear voice each bright thing brightly saith,
'I am not Beauty; I am only fair.'
4. Joy, too, all nature has with splendour clad;
the sounds that fill the music-haunted air,
or rise from forest or from stream, declare,
'I am not gladness; I am only glad.'
5. O wondrous sun! with all that light of thine,
unchanged since thy Creator kindled thee,
the fountainhead of radiant purity;
thou say'st; 'I am not light, I only shine.'
6. Look not to me, say earth, and sea, and sky,
we but reveal another's comeliness;
as voices crying in the wilderness,
'The birth-place of all beauty is on high.'
Horatius Bonar, The Song of the New Creation, 1872, 168-169.