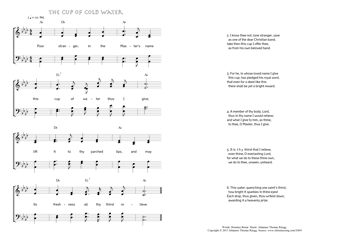 Christ My Song - 856
Poor stranger, in the Master's name - The cup of cold water
(Horatius Bonar/Johannes Thomas Rüegg)
The cup of cold water.
Matthew 10,24.
1. Poor stranger, in the Master's name
this cup of water thus I give;
lift it to thy parched lips, and may
its freshness all thy thirst relieve. (PDF - Midi)
2. I know thee not, lone stranger, save
as one of the dear Christian band;
take then this cup I offer thee,
as from his own beloved hand.
3. For he, in whose loved name I give
this cup, has pledged his royal word,
that even for a deed like this
there shall be yet a bright reward.
4. A member of thy body, Lord,
thus in thy name I would relieve;
and what I give to him, as thine,
to thee, O Master, thus I give.
5. It is t h y thirst that I relieve,
even thine, O everlasting Lord;
for what we do to these thine own,
we do to thee, unseen, unheard.
6. This water, quenching one saint's thirst,
how bright it sparkles in thine eyes!
Each drop, thus given, thou writest down,
awarding it a heavenly prize.
Horatius Bonar, The Song of the New Creation, 1872, 49-50.