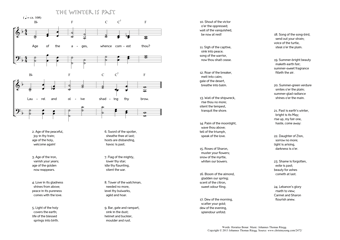 Christ My Song - 859
Age of the ages - The winter is past
(Horatius Bonar/Johannes Thomas Rüegg)
The winter is past.
1. Age of the ages,
whence comest thou?
Laurel and olive
shading thy brow. (PDF - Midi)
2. Age of the peaceful,
joy in thy train;
age of the holy,
welcome again!
3. Age of the iron,
vanish your years;
age of the golden
now reappears.
4. Love in its gladness
shines from above;
peace in its pureness
comes with the love.
5. Light of the holy
covers the earth;
life of the blessed
springs into birth.
6. Sword of the spoiler,
sheathe thee at last;
hosts are disbanding,
havoc is past.
7. Flag of the mighty,
lower thy star;
idle thy flaunting,
silent the war.
8. Tower of the watchman,
needed no more,
level thy bulwarks,
agèd and hoar.
9. Bar, gate and rampart,
sink in the dust;
helmet and buckler,
moulder and rust.
10. Shout of the victor
o'er the oppressed;
wail of the vanquished,
be now at rest!
11. Sigh of the captive,
sink into peace;
song of the warrior,
now thou shalt cease.
12. Roar of the breaker,
melt into calm;
gale of the desert,
breathe into balm.
13. Wail of the shipwreck,
rise thou no more;
silent the tempest,
tranquil the shore.
14. Palm of the moonlight,
wave thou above;
tell of the triumph,
speak of the love.
15. Roses of Sharon,
muster your flowers;
snow of the myrtle,
whiten our bowers.
16. Bloom of the almond,
gladden our spring;
scent of the citron,
sweet odour fling.
17. Dew of the morning,
scatter your gold;
dew of the evening,
splendour unfold.
18. Song of the song-bird,
send out your strain;
voice of the turtle,
steal o'er the plain.
19. Summer-bright beauty
maketh earth fair;
summer-sweet fragrance
filleth the air.
20. Summer-green verdure
smiles o'er the plain;
summer-glad radiance
shines o'er the main.
21. Past is earth's winter,
bright is its May;
rise up, my fair one,
haste, come away:
22. Daughter of Zion,
sorrow no more;
light is arising,
darkness is o'er.
23. Shame is forgotten,
exile is past;
beauty for ashes
cometh at last.
24. Lebanon's glory
riseth to view;
Carmel and Sharon
flourish anew.
Horatius Bonar, The Song of the New Creation, 1872, 124-128.