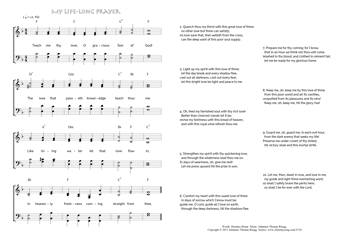 Christ My Song - 923
Teach me thy love, O gracious Son of God! - My life-long prayer
(Horatius Bonar/Johannes Thomas Rüegg)
My life-long prayer.
To E. M. B.
"To know the love of Christ, which passeth knowledge." (Ephesians 3,19)
1. Teach me thy love, O gracious Son of God!
The love that passeth knowledge teach thou me.
Like living water let that love flow in,
in heavenly freshness coming straight from thee. PDF - Midi
2. Quench thou my thirst with this great love of thine:
no other love but thine can satisfy;
no love save that, that welleth from the cross,
can the deep want of this poor soul supply.
3. Light up my spirit with this love of thine;
let the day break and every shadow flee;
cast out all darkness, cast out every fear;
let this bright love be light and peace to me.
4. Oh, feed my famished soul with thy rich love!
Better than choicest viands let it be;
revive my faintness with this bread of heaven,
and with this royal wine refresh thou me.
5. Strengthen my spirit with thy quickening love,
and through the wilderness lead thou me on.
In days of weariness, oh, give me rest!
Let me press upward till the prize is won.
6. Comfort my heart with this sweet love of thine
in days of sorrow which I know must be;
guide me, O Lord, guide all I love on earth,
through the deep darkness, till the shadows flee.
7. Prepare me for thy coming; for I know
that in an hour we think not thou wilt come.
Washed in thy blood, and clothed in raiment fair,
let me be ready for my glorious home.
8. Keep me, oh, keep me by this love of thine
from this poor world and all its vanities,
unspotted from its pleasures and its sins!
Keep me, oh, keep me, till the glory rise!
9. Guard me, oh, guard me, in each evil hour,
from the dark enemy that seeks my life!
Preserve me under covert of thy shield,
till victory shall end this mortal strife.
10. Let me, then, dwell in love, and love in me,
my guide and light thine everlasting word;
so shall I safely brave the perils here;
so shall I be for ever with the Lord.
February 4th, 1871.
Horatius Bonar, "Until the day break", 1890, 17-20.