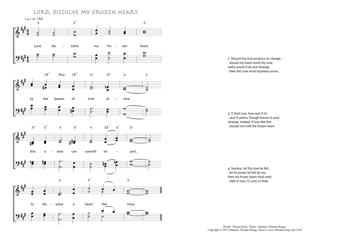 Christ My Song - 1256
Lord, dissolve my frozen heart
(Thomas Kelly/Johannes Thomas Rüegg)
Lord, dissolve my frozen heart.
"The love of Christ, which passeth knowledge ."
(Ephesians 3,19)
1. Lord, dissolve my frozen heart,
by the beams of love divine;
this alone can warmth impart,
to dissolve a heart like mine. PDF - Midi
2. Should thy love produce no change,
should my heart resist thy love,
awful would it be and strange,
then the case must hopeless prove.
3. O that love, how vast it is!
vast it seems, though known in part;
strange, indeed, if love like this
should not melt the frozen heart.
4. Saviour, let thy love be felt,
let its power be felt by me;
then my frozen heart shall melt,
melt in love, O Lord, to thee.
Thomas Kelly, Hymns on various passages of Scripture, ca. 1853, Hymn 170.