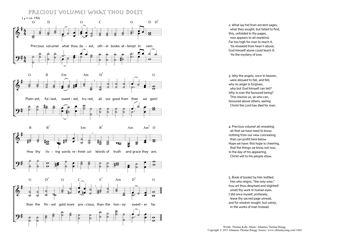 Christ My Song - 1402
Precious volume! what thou doest
(Thomas Kelly/Johannes Thomas Rüegg)
Precious volume! what thou doest.
"My tongue shall speak of thy word." (Psalm 119,172)
1. Precious volume! what thou doest,
other books attempt in vain.
Plainest, fullest, sweetest, truest,
all our good from thee we gain!
How thy living words refresh us!
Words of truth and grace they are;
than the finest gold more precious,
than the honey sweeter far. PDF - Midi
2. What lay hid from ancient sages,
what they sought, but failed to find,
this, unfolded in thy pages,
now appears to all mankind.
Far too high for man to reach it,
'tis revealed from heav'n above;
God himself alone could teach it:
'tis the mystery of love.
3. Why the angels, once in heaven,
were allowed to fall, and fell;
why no angel is forgiven,
who but God himself can tell?
Why is man the favoured being?
This resolve us, ye who can,
favoured above others, seeing
Christ the Lord has died for man.
4. Precious volume! all revealing,
all that we have need to know:
nothing from our view concealing,
that can profit here below.
Hope we have: this hope is cheering,
that the things we know not now,
in the day of his appearing,
Christ will to his people show.
5. Book of books! by him indited,
him who reigns, "the only wise,"
how art thou despised and slighted!
small thy work in human eyes.
I did once myself, profanely,
leave thy sacred page unread,
and for wisdom sought, but vainly,
in the works of man instead.
Thomas Kelly, Hymns on various passages of Scripture, ca. 1853, Hymn 506.