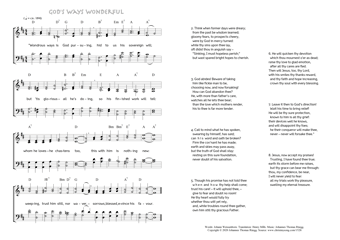 Christ My Song - 1528
Wondrous ways is God pursuing - God's Ways Wonderful
(Johann Weissenborn/Henry Mills/Johannes Thomas Rüegg)
God's Ways Wonderful.
"Wondrous ways is God pursuing,
hid to us his sovereign will;
but 'tis glorious – all he's doing,
so his finished work will tell:
whom he loves – he chastens too,
this with him is nothing new:
weeping, trust him still, nor waver,
sorrows, blessed, evince his favour. PDF - Midi
2. Think when former days were dreary;
from the past be wisdom learned;
gloomy fears, to prospects cheery,
were by God in mercy turned:
while thy sins upon thee lay,
oft didst thou in anguish say –
"Sinking, I must hopeless perish;"
but wast spared bright hopes to cherish.
3. God abides! Beware of taking
him like fickle man to be,
choosing now, and now forsaking!
How can God abandon thee?
He, with more than father's care,
watches all he lets thee bear;
than the love which mothers render,
his to thee is far more tender.
4. Call to mind what he has spoken,
swearing by himself, has said;
can his word and oath be broken?
Firm the cov'nant he has made;
earth and skies may pass away,
but the truth of God shall stay:
resting on this sure foundation,
never doubt of his salvation.
5. Though his promise has not told thee
when and how thy help shall come;
trust his care! – it will uphold thee, –
give to fear and doubt no room!
He thy heart would fully try
whether thou wilt yet rely,
and, while troubles round thee gather,
own him still thy gracious Father.
6. He will quicken thy devotion
which thou mournest o'er as dead;
raise thy love to glad emotion,
after all thy cares are fled.
Then will Jesus, too, thy Lord,
with his smiles thy thanks reward,
and thy faith and hope increasing,
crown thy soul with every blessing.
7. Leave it then to God's direction!
Wait his time to bring relief!
He will be thy sure protection,
known to him is all thy grief:
their devices well he knows,
and will disappoint thy foes;
he their conqueror will make thee,
never – never will forsake thee."
8. Jesus, now accept my praises!
Trusting, I have found thee true;
earth its storm before me raises,
but thy grace can bear me through:
thou, my confidence, be near,
I will never yield to fear:
all my trials work thy pleasure,
swelling my eternal treasure.
J. Weissenborn, 1680, on occasion of his wife's illness.
Henry Mills, Horæ Germanicæ, 1856, hymn 10.
Translated from the German Wunderlich ist Gottes Schicken
of Johann Weissenborn.