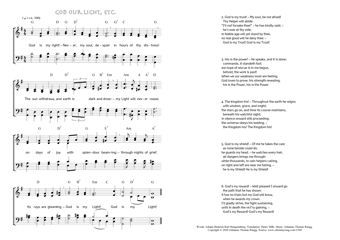 Christ My Song - 1544
God is my light! – Never, my soul, despair - God our Light, etc.
(Johann Heinrich Karl Hengstenberg/Henry Mills/
Johannes Thomas Rüegg)
God our Light, etc.
1. God is my light! – Never, my soul, despair
in hours of thy distress!
The sun withdraws, and earth is dark and drear: –
my Light will never cease;
on days of joy with splendour beaming; –
through nights of grief, its rays are gleaming, –
God is my Light! God is my Light! PDF - Midi
2. God is my trust! – My soul, be not afraid!
Thy Helper will abide:
"I'll not forsake thee!" – he has kindly said, –
he's ever at thy side;
in feeble age will yet stand by thee,
no real good will he deny thee: –
God is my Trust! God is my Trust!
3. His is the power! – He speaks, and it is done;
commands, it standeth fast;
ere hope of rescue is in me begun,
behold, the work is past!
When we our weakness most are feeling,
God loves to prove, his strength revealing,
his is the Power, his is the Power.
4. The kingdom his! – Throughout the earth he reigns
with wisdom, grace, and might;
the stars go on, and time its course maintains,
beneath his watchful sight;
in silence onward still proceeding,
the universe obeys his leading, –
the Kingdom his! The Kingdom his!
5. God is my shield! – Of me he takes the care
as none beside could do;
he guards my head, – he watches every hair,
all dangers brings me through:
while thousands, to vain helpers calling,
on right and left are near me falling, –
he is my Shield! He is my Shield!
6. God's my reward! – Well pleased I onward go
the path that he has shown:
it has no trials but my God will know,
when he awards my crown.
I'll gladly strive, the fight sustaining,
until in death the vict'ry gaining, –
God's my Reward! God's my Reward!
Henry Mills, Horæ Germanicæ, 1856, hymn 93.
Repetitions in last lines added.
Translated from the German Gott ist mein Licht! verzage nicht, mein Herz!
of Johann Heinrich Karl Hengstenberg.