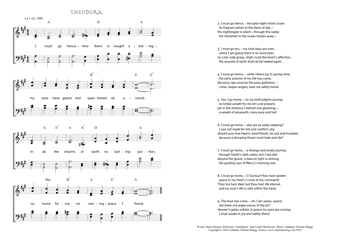 Christ My Song - 1963
I must go hence, – here there is nought abiding - Theodora (Meta Heusser-Schweizer/Jane Laurie Borthwick/
Johannes Thomas Rüegg)
Theodora.
† 1822
1. I must go hence, – here there is nought abiding, –
my eyes have gazed and questioned all around;
in all the charms of earth no lasting portion,
no home for me, no resting-place I found. PDF - Midi
2. I must go hence, – the pale night violet closes
its fragrant petals at the dawn of day, –
the nightingale is silent – through the valley
the streamlet to the ocean hastes away; –
3. I must go too, – my trial-days are over;
where I am going there is no more pain;
no cold, rude grasp, shall crush the heart's affection,
the wounds of earth shall all be healed again.
4. I must go hence, – while others joy in spring-time,
the early autumn of my life has come;
the early ripe must be the early gathered, –
come, reaper-angels, bear me safely home!
5. Yes, I go home; – on my brief pilgrim journey
no bridal wreath for me let Love prepare;
yet in the distance I behold one gleaming, –
a wreath of amaranth, more pure and fair!
6. I must go home, – why are ye sadly weeping?
I was not made for toil and conflict; why
should your true hearts, kind friends, be sad and troubled,
because a drooping flower must fade and die?
7. I must go home, – a strange and lonely journey,
through Death's dark valley; but I see afar
beyond the gloom, a beacon light is shining,
the guiding rays of Mercy's morning star.
8. I must go home, – O Saviour! thou hast spoken
peace to my heart; I come at thy command!
Thou too hast died; but thou hast life eternal,
and my soul's life is safe within thy hand.
9. The hour has come, – oh, I am weary, weary!
Are there not angel-voices in the air?
Heaven's gates unfold, in peace my eyes are closing;
I shall awake in joy and safety there!
H.L.L., alias Jane Laurie Borthwick, Alpine Lyrics, ca. 1874, 25-27.
Translated from the German Ich gehe fort, – hier hab ich keine Stätte - Theodora of Meta Heusser-Schweizer.
Theodora was a much beloved younger sister of Meta, who had died in 1822.