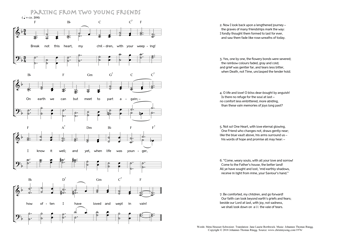 Christ My Song - 1976
Break not this heart, my children - Parting from two young friends
(Meta Heusser-Schweizer/Jane Laurie Borthwick/
Johannes Thomas Rüegg)
Parting from two young friends.
1. Break not this heart, my children, with your weeping!
On earth we can but meet to part again; –
I know it well; and yet, when life was younger,
how often I have loved and wept in vain! PDF - Midi
2. Now I look back upon a lengthened journey –
the graves of many friendships mark the way:
I fondly thought them formed to last for ever,
and saw them fade like rose-wreaths of today.
3. Yes, one by one, the flowery bonds were severed;
the rainbow colours faded, gray and cold;
and grief was gentler far, and tears less bitter,
when Death, not Time, unclasped the tender hold.
4. O life and love! O bliss dear-bought by anguish!
Is there no refuge for the soul at last –
no comfort less embittered, more abiding,
than these vain memories of joys long past?
5. Not so! One Heart, with love eternal glowing,
One Friend who changes not, draws gently near;
like the blue vault above, his arms surround us –
his words of hope and promise all may hear: –
6. "Come, weary souls, with all your love and sorrow!
Come to the Father's house, the better land!
All ye have sought and lost, 'mid earthly shadows,
receive in light from mine, your Saviour's hand."
7. Be comforted, my children, and go forward!
Our faith can look beyond earth's griefs and fears;
beside our Lord at last, with joy, not sadness,
we shall look down on all the vale of tears.
H.L.L., alias Jane Laurie Borthwick, Alpine Lyrics, ca. 1874, 52-53.
Translated from the German O brecht mir nicht das Herz, ihr Kinder! - Einem Paar junger Freundinnen zum Abschied of Meta Heusser-Schweizer.