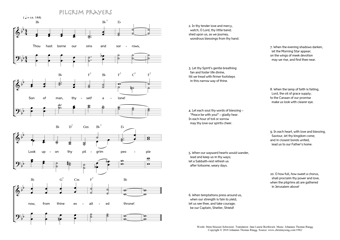 Christ My Song - 1982
Thou hast borne our sins and sorrows - Pilgrim prayers
(Meta Heusser-Schweizer/Jane Laurie Borthwick/
Johannes Thomas Rüegg)
Pilgrim prayers.
1. Thou hast borne our sins and sorrows,
Son of man, thyself alone!
Look upon thy pilgrim people
now, from thine exalted throne! PDF - Midi
2. In thy tender love and mercy,
watch, O Lord, thy little band;
shed upon us, as we journey,
wondrous blessings from thy hand.
3. Let thy Spirit's gentle breathing
fan and foster life divine,
till we tread with firmer footsteps
in this narrow way of thine.
4. Let each soul thy words of blessing –
"Peace be with you!" – gladly hear.
In each hour of toil or sorrow
may thy love our spirits cheer.
5. When our wayward hearts would wander,
lead and keep us in thy ways;
let a Sabbath-rest refresh us
after toilsome, weary days.
6. When temptations press around us,
when our strength is fain to yield,
let us see thee, and take courage;
be our Captain, Shelter, Shield!
7. When the evening shadows darken,
let the Morning Star appear;
on the wings of meek devotion
may we rise, and find thee near.
8. When the lamp of faith is failing,
Lord, the oil of grace supply;
to the Canaan of our promise
make us look with clearer eye.
9. In each heart, with love and blessing,
Saviour, let thy kingdom come;
and in closest bonds united,
lead us to our Father's home.
10. O how full, how sweet a chorus,
shall proclaim thy power and love,
when the pilgrims all are gathered
in Jerusalem above!
H.L.L., alias Jane Laurie Borthwick, Alpine Lyrics, ca. 1874, 46-48.
Translated from the German Der du trugst die Schmerzen aller - Bitten of Meta Heusser-Schweizer.