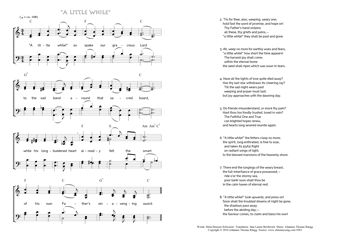 Christ My Song - 1983
"A little while!" so spake our gracious Lord
(Meta Heusser-Schweizer/Jane Laurie Borthwick/
Johannes Thomas Rüegg)
"A little while."
John 16,16.
1. "A little while!" so spake our gracious Lord
to the sad band around that sacred board,
while his long-burdened heart
already felt the smart
of his own Father's sin-avenging sword. PDF - Midi
2. 'Tis for thee, also, weeping, weary one;
hold fast the word of promise, and hope on!
Thy Father's hand ordains
all these, thy griefs and pains, –
"a little while!" they shall be past and gone.
3. Ah, weep no more for earthly woes and fears;
"a little while!" how short the time appears!
The harvest-joy shall come;
within the eternal home
the seed shall ripen which was sown in tears.
4. Have all the lights of love quite died away?
Has thy last star withdrawn its cheering ray?
Till the sad night wears past
weeping and prayer must last;
but joy approaches with the dawning day.
5. Do friends misunderstand, or mock thy pain?
Hast thou too fondly trusted, loved in vain?
The Faithful One and True
can blighted hopes renew,
and hearts long severed reunite again.
6. "A little while!" the fetters clasp no more;
the spirit, long enthralled, is free to soar,
and takes its joyful flight
on radiant wings of light,
to the blessed mansions of the heavenly shore.
7. There end the longings of the weary breast,
the full inheritance of grace possessed; –
ride o'er the stormy sea,
poor bark! soon shalt thou be
in the calm haven of eternal rest.
8. "A little while!" look upwards, and press on!
Soon shall the troubled dreams of night be gone,
the shadows pass away
before the abiding day; –
the Saviour comes, to claim and bless his own!
H.L.L., alias Jane Laurie Borthwick, Alpine Lyrics, ca. 1874, 89-91.
Translated from the German "Über ein Kleines," so sprach er in nächtlicher Stunde of Meta Heusser-Schweizer.