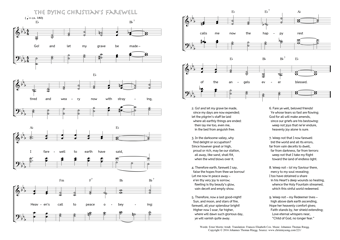 Christ My Song - 221
Go! and let my grave be made - The dying Christian's Farewell (Ernst Moritz Arndt/Frances Elizabeth Cox/
Johannes Thomas Rüegg)
The dying Christian's Farewell.
I have a desire to depart, and to be with Christ.
(Philippians 1,23)
1. Go! and let my grave be made –
tired and weary now with straying,
I farewell to earth have said,
Heaven's call to peace obeying:
calls me now the happy rest
of the angels ever blessed. PDF - Midi
2. Go! and let my grave be made,
since my days are now expended;
let the pilgrim's staff be laid
where all earthly things are ended:
then lay me too, even me,
in the bed from anguish free.
3. In the darksome valley, why
find delight or occupation?
Since however great or high,
proud or rich, may be our station,
all away, like sand, shall flit,
when the wind blows over it.
4. Therefore earth, farewell I say,
false the hopes from thee we borrow!
Let me now in peace away –
e'en thy very joy is sorrow;
fleeting is thy beauty's glow,
vain deceit and empty show.
5. Therefore, now a last good-night!
Sun, and moon, and stars of fire,
farewell, all your splendour bright!
Higher now I soar, far higher,
where will dawn such glorious day,
ye will vanish quite away.
6. Fare ye well, beloved friends!
Ye whose tears so fast are flowing;
God for all will make amends,
since our griefs are his bestowing:
weep not joys that ne'er endure,
heavenly joy alone is sure.
7. Weep not that I now farewell
bid the world and all its errors,
far from vain deceits to dwell,
far from darkness, far from terrors:
weep not that I take my flight
toward the land of endless light.
8. Weep not – lo! my Saviour there,
mercy to my soul revealing;
I too have obtained a share
in his Heart's deep wounds so healing,
whence the Holy Fountain streamed,
which this sinful world redeemed.
9. Weep not – my Redeemer lives –
high above dark earth ascending,
Hope her heavenly comfort gives;
Faith stands by, her shield extending;
Love eternal whispers near,
"Child of God, no longer fear."
Frances Elizabeth Cox, Hymns from the German, 1864, 83+85.
Translated from the German Geht nun hin und grabt mein Grab - Abschied von den Schatten
of Ernst Moritz Arndt.