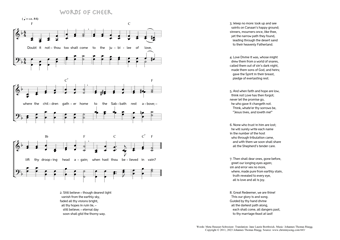 Christ My Song - 443
Doubt it not – thou too shalt come - Words of Cheer
(Meta Heusser-Schweizer/Jane Laurie Borthwick/
Johannes Thomas Rüegg)
Words of Cheer.
1. Doubt it not – thou too shalt come
to the jubilee of love,
where the children gather home
to the Sabbath rest above; –
lift thy drooping head again;
when hast thou believed in vain? (PDF - Midi)
2. Still believe – though dearest light
vanish from the earthly sky,
faded all thy visions bright,
all thy hopes in ruin lie, –
still believe; – eternal day
soon shall gild the thorny way.
3. Weep no more: look up and see
saints on Canaan's happy ground;
sinners, mourners once, like thee,
yet the narrow path they found,
leading through the desert sand
to their heavenly Fatherland.
4. Love Divine it was, whose might
drew them from a world of snares,
called them out of sin's dark night,
made them sons of God, and heirs;
gave the Spirit in their breast,
pledge of everlasting rest.
5. And when faith and hope are low,
think not Love has then forgot;
never let the promise go,
he who gave it changeth not.
Think, whate'er thy sorrows be,
"Jesus lives, and loveth me!"
6. None who trust in him are lost;
he will surely write each name
in the number of the host
who through tribulation came,
and with them we soon shall share
all the Shepherd's tender care.
7. Then shall dear ones, gone before,
greet our longing eyes again;
sin and error vex no more,
where, made pure from earthly stain,
truth revealed to every eye,
all is love and all is joy.
8. Great Redeemer, we are thine!
This our glory is and song.
Guided by thy hand divine
all the darkest path along,
each shall come, all dangers past,
to thy marriage-feast at last!
H.L.L., alias Jane Laurie Borthwick, Alpine Lyrics, ca. 1874, 58-60.
Translated from the German Endlich, endlich wirst auch du - Ermutigung of Meta Heusser-Schweizer.