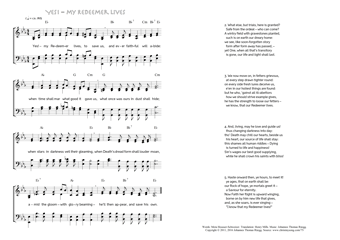 Christ My Song - 75
Yes! – my Redeemer lives, to save us - Yes! – my Redeemer lives (Meta Heusser-Schweizer/Henry Mills/
Johannes Thomas Rüegg)
Yes! – my Redeemer lives.
1. Yes! – my Redeemer lives, to save us,
and ever faithful will abide:
when time shall mar what good it gave us,
what once was ours in dust shall hide;
when stars in darkness veil their gleaming,
when Death's dread form shall louder moan,
amid the gloom – with glory beaming –
he'll then appear, and save his own. PDF - Midi
2. What else, but trials, here is granted?
Safe from the ordeal – who can come?
A wintry field with gravestones planted,
such is on earth our dreary home:
we see, like soon-forgotten story
form after form away has passed, –
yet One, when all that's transitory
is gone, our life and light shall last.
3. We now move on, in fetters grievous,
at every step drawn tighter round:
on every side fresh lures deceive us,
e'en in our holiest things are found:
but he who, 'gainst all ill-abettors
how we should strive example gives,
he has the strength to loose our fetters –
we know, that our Redeemer lives.
4. And, living, may he love and guide us!
thus changing darkness into day:
tho' Death may chill our hearts, beside us
his heart, our source of life shall stay:
this shames all human riddles – Dying
is turned to life and happiness!
Sin's wages our best good supplying,
while he shall crown his saints with bliss!
5. Haste onward then, ye hours, to meet it!
ye ages, that on earth shall be:
our Rock of hope, ye mortals greet it –
a Saviour for eternity.
Now Faith her flight is upward winging,
borne on by him new life that gives,
and, as she soars, is ever singing –
"I know that my Redeemer lives!"
Henry Mills, in: Philip Schaff: Christ in Song, 1870, 435-436.
Translated from the German Ich weiß, dass mein Erlöser lebet - Mein Erlöser lebt!
of Meta Heusser-Schweizer.