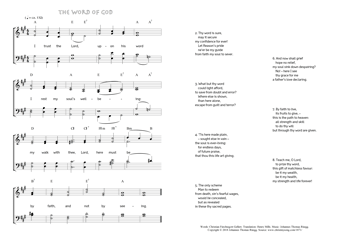 Christ My Song - 1871
I trust the Lord - The Word of God
(Christian Fürchtegott Gellert/Henry Mills/
Johannes Thomas Rüegg)
The Word of God.
1. I trust the Lord,
upon his word
I rest my soul's well-being:
my walk with thee,
Lord, her must be
by faith, and not by seeing. PDF - Midi
2. Thy word is sure,
may it secure
my confidence for ever!
Let Reason's pride
ne'er be my guide
from faith my soul to sever.
3. What but thy word
could light afford,
to save from doubt and error?
Where else is shown,
than here alone,
escape from guilt and terror?
4. 'Tis here made plain,
– sought else in vain –
the soul is ever-living:
for endless days,
of future praise,
that thou this life art giving.
5. The only scheme
Man to redeem
from death, sin's fearful wages,
would lie concealed,
but as revealed
in these thy sacred pages.
6. And now shall grief
hope no relief,
my soul sink down despairing?
No! – here I see
thy grace for me
a father's love declaring.
7. By faith to live,
its fruits to give, –
this is the path to heaven:
all strength and skill
to do thy will
but through thy word are given.
8. Teach me, O Lord,
to prize thy word,
this gift of matchless favour:
be it my wealth,
be it my health,
my strength and life forever!
Henry Mills, Horæ Germanicæ, 1856, hymn 11.
Translated from the German Gott ist mein Hort! - Vom Worte Gottes
of Christian Fürchtegott Gellert.