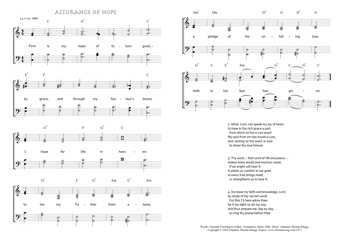 Christ My Song - 1877
Firm is my hope of future good - Assurance of Hope
(Christian Fürchtegott Gellert/Henry Mills/
Johannes Thomas Rüegg)
Assurance of Hope.
1. Firm is my hope of future good, –
by grace, and through my Saviour's blood,
I hope for life in heaven:
to me my Father from above,
a pledge of his unfailing love,
faith in his Son has given. PDF - Midi
2. What, Lord, can speak my joy of heart,
to have in thy rich grace a part,
from which no force can sever!
My soul from sin has found a cure,
and, resting on thy word, is sure
to share thy love forever.
3. Thy word, – that word of life and peace, –
makes every doubt and murmur cease,
if we aright will hear it:
it yields us comfort in our grief,
in every trial brings relief,
or strengthens us to bear it.
4. Increase my faith and knowledge, Lord,
by study of thy sacred word!
For this I'll here adore thee:
be it my light on all my way,
and thus prepare me, day by day,
to sing thy praise before thee.
Henry Mills, Horæ Germanicæ, 1856, hymn 98.
Translated from the German So hoff ich denn mit festem Mut - Versicherung der Gnade Gottes
of Christian Fürchtegott Gellert.