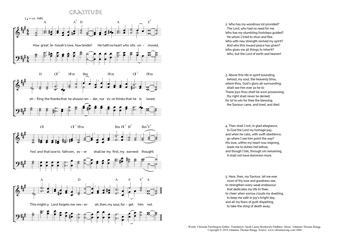 Christ My Song - 1880
How great Jehovah's love, how tender! - Gratitude
(Christian Fürchtegott Gellert/Sarah Laurie Borthwick Findlater/
Johannes Thomas Rüegg)
Gratitude.
"What shall I render unto the Lord for all his benefits?"
(Psalm 116,12)
1. How great Jehovah's love, how tender!
He hath no heart who sits unmoved,
stifling the thanks that he should render,
nor ever thinks that he is loved.
Yes! and that love to fathom, ever
shall be my first, my earnest thought.
This mighty Lord forgets me never:
oh, then, my soul, forget him not. PDF - Midi
2. Who has my wondrous lot provided?
The Lord, who had no need for me.
Who has my stumbling footsteps guided?
He whom I tried to shun and flee.
Who with new strength revived my spirit?
And who this inward peace has given?
Who gives me all things to inherit?
Who, but the Lord of earth and heaven!
3. Above this life in spirit bounding,
behold, my soul, the heavenly bliss,
where thou, God's glory all surrounding,
shalt see him ever as he is!
These joys thou shalt be soon possessing,
thy right shall never be denied;
for lo! to win for thee the blessing,
the Saviour came, and lived, and died.
4. Then shall I not, in glad allegiance,
to God the Lord my homage pay,
and when he calls, with swift obedience,
go where I see him point the way?
His love, within my heart now reigning,
leads me to duties hid before;
ant though I fail, through sin remaining,
it shall not have dominion more.
5. Here, then, my Saviour, let me ever
more of thy love and goodness see,
to strengthen every weak endeavour
that dedicates my life to thee;
to cheer when sorrow clouds my dwelling,
to keep me safe in joy's bright day,
and all my fears of guilt dispelling,
to take the sting of death away.
Sarah Laurie Borthwick Findlater, Hymns from the Land of Luther, 1862, 289-291.
Translated from the German Wie groß ist des Allmächtgen Güte! - Die Güte Gottes
of Christian Fürchtegott Gellert.