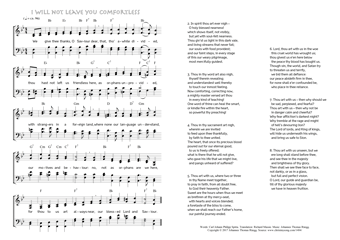 Christ My Song - 1484
We give thee thanks, O Saviour dear - I will not leave you comfortless (Carl Johann Philipp Spitta/Richard Massie/
Johannes Thomas Rüegg)
I will not leave you comfortless.
John 14,18.
1. We give thee thanks, O Saviour dear,
that, tho' awhile divided,
thou hast not left us friendless here,
as orphans unprovided,
with strangers in a foreign land,
where none our language understand,
our motives and behaviour:
no, not as orphans are we here,
for thou to us art always near,
our blessed Lord and Saviour. PDF - Midi
2. In spirit thou art ever nigh –
O holy blessed nearness!
which shows itself, not visibly,
but yet with soul-felt nearness.
Thou giv'st us light in this dark vale,
and living streams that never fail;
our souls with food providest;
and our faint steps, in every stage
of this our weary pilgrimage,
most mercifully guidest.
3. Thou in thy word art also nigh,
thyself therein revealing;
and understandest well thereby
to touch our inmost feeling.
Now comforting, correcting now,
a mighty master versed art thou
in every kind of teaching!
One word of thine can heal the smart,
or kindle fire within the heart,
so powerful thy preaching!
4. Thou in thy sacrament art nigh,
wherein we are invited
to feed upon thee thankfully,
by faith to thee united.
The heart, that once its precious blood
poured out for our eternal good,
to us is freely offered;
what is there that he will not give,
who gave his life that we might live,
and pangs unheard of suffered?
5. Thou art with us, where two or three
in thy Name meet together,
to pray in faith, from all doubt free,
to God their heavenly Father.
Sweet are the hours when thus we meet
as brethren at thy mercy-seat,
with hearts and voices blended;
a foretaste of the bliss to come,
when we shall reach our Father's home,
our painful journey ended.
6. Lord, thou art with us in the woe
this cruel world has wrought us;
thou givest us e'en here below
the peace thy blood has bought us.
Though sin, the world, and Satan try
to threaten us and terrify,
we bid them all defiance:
our peace abideth firm in thee,
for none shall e'er confounded be,
who place in thee reliance.
7. Thou art with us – then why should we
be sad, perplexed, and fearful?
Thou art with us – then why not be
in danger calm and cheerful?
Why fear affliction's darkest night?
Why tremble at the rage and might
of hell's devouring lion?
The Lord of lords, and King of kings,
will hide us underneath his wings,
and bring us safe to Sion.
8. Thou art with us unseen, but we
ere long shall stand before thee,
and see thee in the majesty
and brightness of thy glory.
Then shall we see thee face to face,
not darkly, or as in a glass,
but full and perfect vision.
O Lord, our guide and guardian be,
till of thy glorious majesty
we have in heaven fruition.
Richard Massie, Lyra Domestica II, 1864, 18-20.
Translated from the German Wir danken, treuer Heiland dir - Ich will euch nicht Waisen lassen
of Carl Johann Philipp Spitta.