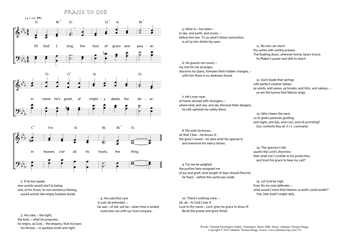 Christ My Song - 373
Of God I sing - Praise to God
(Christian Fürchtegott Gellert/Henry Mills/
Johannes Thomas Rüegg)
Praise to God.
1. Of God I sing,
the God of grace and power;
in name he's great, of mighty deeds the doer;
in heaven, o'er all its hosts, the King. PDF - Midi
2. If he but speak,
new worlds would start to being;
and, at his frown, to non-existence fleeing,
would worlds like empty bubbles break.
3. His robe, – the light;
the best, – what he proposes;
he reigns, as God, – the drapery, that incloses
his throne, – is spotless truth and right.
4. His watchful care
is over all extended, –
he was – of old, will be – when time is ended,
none else can with our God compare.
5. What is – has been –
in sky, and earth, and ocean, –
before him lies. To us what's blind commotion,
is all by him distinctly seen.
6. He guards me round, –
my rest for me arranges:
discerns my plans, foresees their hidden changes, –
with him there is no darkness found.
7. He's ever near:
at home, abroad with strangers, –
where land, and sea, and sky disclose their dangers,
he still upholds me safely there.
8. My wish he knows,
all that I fear – he knows it:
the good I would – he sees what ills oppose it,
and evermore his mercy shows.
9. For me he weighed
the portion here assigned me
of joy and grief; what length of days should find me
he fixed, – before the world was made.
10. There's nothing mine, –
all, all – to God I owe it.
Love to thy name – Lord, give me grace to show it!
Be all the praise and glory thine!
11. No one can reach
thy works with worthy praises.
The floating down, wherever borne, bears traces
its Maker's power and skill to teach.
12. Each blade that springs
with perfect wisdom tallies:
ye winds, and waves, ye brooks, and hills, and valleys, –
ye are the hymns that Nature sings.
13. Who cheers the land,
us to green pastures guiding;
and night, and day, and corn, and oil providing?
Our comforts flow at his command.
14. The sparrow's fall
awaits the Lord's direction:
then shall not I confide in his protection,
and trust his grace to hear my call?
15. Let God be nigh,
from ills my sole defender, –
what would I more that Heaven or earth could render?
Yea, Hell itself I might defy.
Henry Mills, Horæ Germanicæ, 1856, hymn 4.
Translated from the German Gott ist mein Lied! - Gottes Macht und Vorsehung
of Christian Fürchtegott Gellert.