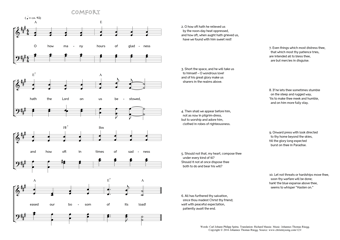 Christ My Song - 123
O how many hours of gladness - Comfort
(Carl Johann Philipp Spitta/Richard Massie/
Johannes Thomas Rüegg)
Comfort.
1. O how many hours of gladness
hath the Lord on us bestowed,
and how oft in times of sadness
eased our bosom of its load! PDF - Midi
2. O how oft hath he relieved us
by the noon-day heat oppressed,
and how oft, when aught hath grieved us,
have we found with him sweet rest!
3. Short the space, and he will take us
to himself – O wondrous love!
and of his great glory make us
sharers in the realms above.
4. Then shall we appear before him,
not as now in pilgrim-dress,
but to worship and adore him,
clothed in robes of righteousness.
5. Should not that, my heart, compose thee
under every kind of ill?
Should it not at once dispose thee
both to do and bear his will?
6. All has furthered thy salvation,
since thou madest Christ thy friend;
wait with peaceful expectation,
patiently await the end.
7. Even things which most distress thee,
that which most thy patience tries,
are intended all to bless thee,
are but mercies in disguise.
8. If he lets thee sometimes stumble
on the steep and rugged way,
'tis to make thee meek and humble,
and on him more fully stay.
9. Onward press with look directed
to thy home beyond the skies,
till the glory long expected
burst on thee in Paradise.
10. Let not threats or hardships move thee,
soon thy warfare will be done;
hark! the blue expanse above thee,
seems to whisper "Hasten on."
Richard Massie, Lyra Domestica I, 1863, 126-127.
Translated from the German O wie manche schöne Stunde - Getrost
of Carl Johann Philipp Spitta.