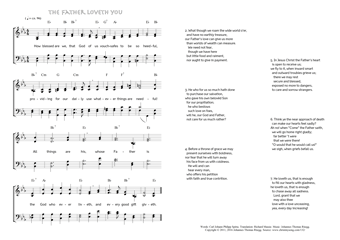 Christ My Song - 132
How blessed are we, that God of us - The Father loveth you (Carl Johann Philipp Spitta/Richard Massie/
Johannes Thomas Rüegg)
The Father loveth you.
1. How blessed are we, that God of us
vouchsafes to be so heedful,
providing for our daily use
whatever things are needful!
All things are his,
whose Father is
the God who ever liveth,
and every good gift giveth. PDF - Midi
2. What though we roam the wide world o'er,
and have no earthly treasure,
our Father's love can give us more
than worlds of wealth can measure.
We need not fear,
though we have here
but little food and raiment,
nor aught to give in payment.
3. He who for us so much hath done
to purchase our salvation,
who gave his own belovèd Son
for our propitiation;
he who bestows
such love on foes,
will he, our God and Father,
not care for us much rather?
4. Before a throne of grace we may
present ourselves with boldness,
nor fear that he will turn away
his face from us with coldness.
He will and can
hear every man,
who offers his petition
with faith and true contrition.
5. In Jesus Christ the Father's heart
is open to receive us;
we fly to it, when inward smart
and outward troubles grieve us;
there we may rest
secure and blessed,
exposed no more to dangers,
to care and sorrow strangers.
6. Think ye the near approach of death
can make our hearts feel sadly?
Ah no! when "Come" the Father saith,
we will go home right gladly;
far better 't were
that we were there!
"O would that he would call us!"
we sigh, when griefs befall us.
7. He loveth us, that is enough
to fill our hearts with gladness,
he loveth us, that is enough
to chase away all sadness.
Lord, grant that we
may also thee
love with a love unceasing,
yea, every day increasing!
Richard Massie, Lyra Domestica I, 1863, 97-99.
Translated from the German Wohl uns, der Vater hat uns lieb - Der Vater hat euch lieb
of Carl Johann Philipp Spitta.