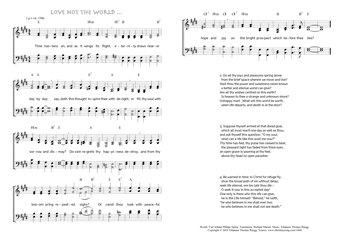 Christ My Song - 1460
Time hastens on, and as it wings its flight - Love not the world, nor the things that are in the world
(Carl Johann Philipp Spitta/Richard Massie/
Johannes Thomas Rüegg)
Love not the world, nor the things that are in the world.
1. Time hastens on, and as it wings its flight,
eternity draws nearer day by day:
say, doth this thought inspire thee with delight,
or fill thy soul with sorrow and dismay?
Do vain regrets thy happiness destroy,
and from thy bosom wring repeated sighs?
Or canst thou look with peaceful hope and joy
on the bright prospect which before thee lies? PDF - Midi
2. Do all thy joys and pleasures spring alone
from the brief space wherein we move and live?
Hast thou the power and sweetness never known
a better and eternal world can give?
Are all thy wishes centred on this earth?
Is heaven to thee a strange and unknown shore?
Unhappy man! What will this world be worth,
when life departs, and death is at the door?
3. Suppose thyself arrived at that dread goal,
which all must reach one day as well as thou;
and ask thyself this question: "O my soul,
what can a life like this avail me now?"
Thy time has fled, thy pulse has ceased to beat,
the pleasant light has faded from thine eyes,
an open grave is yawning at thy feet,
above thy head no open paradise.
4. Be warned in time; to Christ for refuge fly,
shun the broad path of sin without delay,
seek life eternal, ere too late thou die –
O seek it now in this accepted day!
One only is there who this life can give,
he is the Life himself: "Behold," he saith,
"he who believes in me shall ever live;
he who believes in me shall not see death."
Richard Massie, Lyra Domestica II, 1864, 10-11.
Translated from the German Die Zeit flieht hin, und immer näher - Wie habt ihr das Eitle so lieb
of Carl Johann Philipp Spitta.