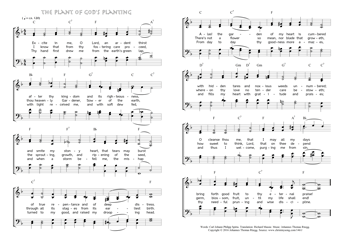 Christ My Song - 1461
Excite in me, O Lord, an ardent thirst - The plant of God's planting (Carl Johann Philipp Spitta/Richard Massie/
Johannes Thomas Rüegg)
The plant of God's planting.
1. Excite in me, O Lord, an ardent thirst
after thy kingdom and its righteousness,
and smite my stony heart, that tears may burst
of true repentance and of deep distress.
Alas! the garden of my heart is cumbered
with hidden tares and noxious weeds unnumbered;
O cleanse thou me, that I may all my days
bring forth good fruit to thy eternal praise! PDF - Midi
2. I know that from thy fostering care proceed,
thou heavenly Gardener, Sower of the earth,
the sprouting, growth, and ripening of the seed,
through all its stages from its earliest birth.
There's not a flower so mean, nor blade that groweth,
whereon thy love no tender care bestoweth;
how sweet to think, Lord, that on thee depend
germ, blossom, fruit, until my life shall end!
3. Thy hand first drew me from the earth's green lap,
with light received me, and with soft dew fed,
and when a storm befell me, the mishap
turned to my good, and raised my drooping head.
From day to day thy goodness more amazes,
and fills my heart with gratitude and praises;
and thus I welcome, purging me from sin,
thy needful pruning and wise discipline.
Richard Massie, Lyra Domestica I, 1863, 119-120.
Translated from the German Erhalt in mir den Lebenstrieb, das Sehnen - Die Pflanze von Gott gepflanzt
of Carl Johann Philipp Spitta.