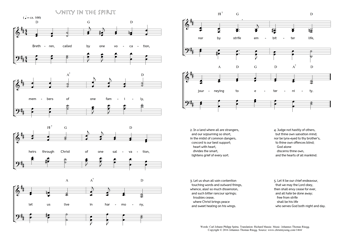 Christ My Song - 1464
Brethren, called by one vocation - Unity in the Spirit
(Carl Johann Philipp Spitta/Richard Massie/
Johannes Thomas Rüegg)
Unity in the Spirit.
1. Brethren, called by one vocation,
members of one family,
heirs through Christ of one salvation,
let us live in harmony,
nor by strife
embitter life,
journeying to eternity. PDF - Midi
2. In a land where all are strangers,
and our sojourning so short,
in the midst of common dangers,
concord is our best support;
heart with heart,
divides the smart,
lightens grief of every sort.
3. Let us shun all vain contention
touching words and outward things,
whence, alas! so much dissension,
and such bitter rancour springs;
troubles cease,
where Christ brings peace
and sweet healing on his wings.
4. Judge not hastily of others,
but thine own salvation mind;
nor be lynx-eyed to thy brother's,
to thine own offences blind;
God alone
discerns thine own,
and the hearts of all mankind.
5. Let it be our chief endeavour,
that we may the Lord obey,
then shall envy cease for ever,
and all hate be done away;
free from strife
shall be his life
who serves God both night and day.
Richard Massie, Lyra Domestica I, 1863, 87-88.
Translated from the German Allen ist Ein Heil beschieden - Einigkeit im Geist
of Carl Johann Philipp Spitta.