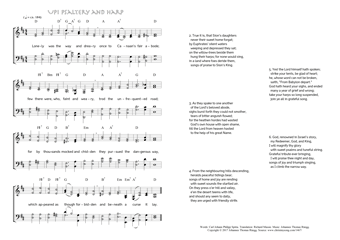 Christ My Song - 1467
Lonely was the way and dreary - Up! psaltery and harp
(Carl Johann Philipp Spitta/Richard Massie/
Johannes Thomas Rüegg)
Up! psaltery and harp.
Lonely was the way and dreary
once to Canaan's fair abode;
few there were, who, faint and weary,
trod the unfrequented road;
for by thousands mocked and chidden
they pursued the dangerous way,
which appeared as though forbidden
and beneath a curse it lay. PDF - Midi
2. True it is, that Sion's daughters
never their sweet home forgat;
by Euphrates' silent waters
weeping and depressed they sat;
on the willow-trees beside them
hung their harps; for none would sing,
in a land where foes deride them,
songs of praise to Sion's King.
3. As they spake to one another
of the Lord's beloved abode,
sighs burst forth they could not smother,
tears of bitter anguish flowed;
for the heathen hordes had wasted
God's own house with open shame,
till the Lord from heaven hasted
to the help of his great Name.
4. From the neighbouring hills descending,
heralds peaceful tidings bear;
songs of home and joy are rending
with sweet sounds the startled air.
On they press o'er hill and valley,
e'en the desert teems with life,
and should any seem to dally,
they are urged with friendly strife.
5. Yes! the Lord himself hath spoken;
strike your tents, be glad of heart;
he, whose word can not be broken,
saith, "From Babylon depart."
God hath heard your sighs, and ended
many a year of grief and wrong;
take your harps so long suspended,
join ye all in grateful song.
6. God, renowned in Israel's story,
my Redeemer, God, and King,
I will magnify thy glory
with sweet psalms and tuneful string.
Grateful tribute ever bringing,
I will praise thee night and day,
songs of joy and triumph singing,
as I climb the narrow way.
Richard Massie, Lyra Domestica I, 1863, 3-5.
Translated from the German Jüngst war's öde, niemals öder - Auf! Psalter und Harfe
of Carl Johann Philipp Spitta.