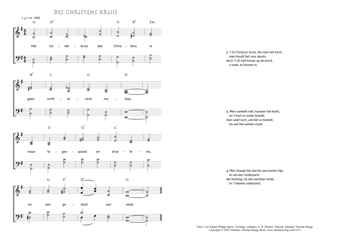 Christ My Song - 1471
Het ridderkruis des Christens is - Des Christens kruis
(Carl Johann Philipp Spitta/Johannes A. D. Molster/
Johannes Thomas Rüegg)
Des Christens kruis.
1. Het ridderkruis des Christens is
geen schitterend metaal,
maar tegenspoed en droefenis,
en een geduld van staal. PDF - Midi
2. 't Is Christus' kruis. Als men het torst,
men houdt het voor gewin;
doch 't zit niet boven op de borst,
o neen, er binnen in.
3. Men wankelt niet, hoezeer het knelt,
en 't hart er onder bloedt;
men weet toch, wie het zo bestelt,
en wat het werken moet.
4. Men draagt het slechts een korten tijd,
en als een onderpand
der kroning, na den aardsen strijd,
in 't hemels vaderland.
Naar Johannes A. D. Molster, in: Johannes Riemens, Luit en Harp, 83-84.
Translated from the German Des Christen Schmuck und Ordensband - Des Christen Kreuz
of Carl Johann Philipp Spitta.