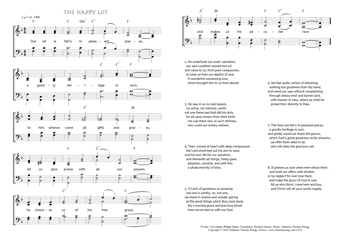 Christ My Song - 1476
Our lot is fall'n in pleasant places - The happy lot
(Carl Johann Philipp Spitta/Richard Massie/
Johannes Thomas Rüegg)
The happy lot.
1. Our lot is fall'n in pleasant places,
a goodly heritage is ours;
to him, whence come all gifts and graces,
let us give praise with all our powers;
he chooses us of his free grace,
and makes us his peculiar race. PDF - Midi
2. He undertook our souls' salvation,
our sad condition moved him so!
and came to us, from pure compassion,
to raise us from our depths of woe;
O wonderful surpassing love,
which brought him to us from above!
3. He saw in us no real beauty,
no virtue, nor intrinsic worth;
not one there was that did his duty,
for all were sinners from their birth;
nor was there one, in such distress,
who could our misery redress.
4. Then, moved at heart with deep compassion,
the Lord stretched out his arm to save,
and his own life for our salvation,
and therewith all things, freely gave,
adoption, sonship, and with this
a whole eternity of bliss.
5. O Lord, of goodness so amazing
not one is worthy, no, not one;
we stand in shame and wonder gazing
at the great things which thou hast done;
thy crowning grace and precious blood
have reconciled us with our God.
6. We feel quite certain of obtaining
nothing but goodness from thy hand,
and wend our way without complaining
through dreary mist and barren land,
with heaven in view, where we shall be
joined thro' eternity to thee.
7. The lines are fall'n in pleasant places,
a goodly heritage is ours,
and gladly would we share the graces,
which God's great goodness richly showers;
we offer them alike to all
who will obey the gracious call.
8. It grieves us sore when men refuse them,
and treat our offers with disdain,
or by neglect for ever lose them,
and make the grace of God in vain.
All ye who thirst, come here and buy,
and Christ will all your wants supply.
Richard Massie, Lyra Domestica I, 1863, 106-107.
Translated from the German Ein lieblich Los ist uns gefallen - Das liebliche Los
of Carl Johann Philipp Spitta.