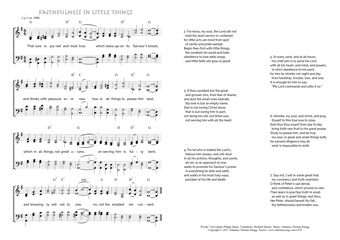 Christ My Song - 1478
That love is purest and most true - Faithfulness in little things
(Carl Johann Philipp Spitta/Richard Massie/
Johannes Thomas Rüegg)
Faithfulness in little things.
1. That love is purest and most true,
which leans upon its Saviour's breast,
and thinks with pleasure ever new
how in all things to please him best;
which in all things, not great alone,
on serving him is fully bent,
and knowingly will not to one,
no, not the smallest sin consent. PDF - Midi
2. For know, my soul, the Lord will not
hold thy least service in contempt,
for little acts are most from spot
of vanity and pride exempt.
Begin then first with little things,
the smallest sin avoid and hate;
obedience to love adds wings,
and little faith will grow to great.
3. If thou avoidest but the great
and grosser sins, from fear of shame,
and dost the small ones tolerate,
thy love is but an empty name;
that is not loving Christ alone.
that is but loving him in part,
not doing his will, but thine own,
not serving him with all thy heart.
4. For he who is indeed the Lord's,
follows him always, and will shun
in all his actions, thoughts, and words,
all sin, or an approach to one;
seeks to promote his Saviour's praise
in everything he doth and saith,
and walks in his most holy ways,
partaker of his life and death.
5. In every work, and at all hours,
his chief aim is to serve his Lord
with all his heart, and mind, and powers,
in strict obedience to his word;
for him he shrinks not night and day
from hardship, trouble, loss, and woe;
it is enough for him to say:
"My Lord commands and wills it so."
6. Wrestle, my soul, and strive, and pray,
thyself to this true love to raise,
that thus thou mayst from day to day
bring forth new fruit to his great praise.
Study to please him, and be true,
my soul, in great and small things both,
for earnest diligence may do
what is impossible to sloth.
7. Say not, I will in some great trial
my constancy and truth maintain;
O think of Peter's sad denial,
and confidence, which proved so vain.
Then learn to practise truth in small
as well as in great things; lest thou,
like Peter, should bewail thy fall,
thy faithlessness and broken vow.
Richard Massie, Lyra Domestica I, 1863, 100-102.
Translated from the German Das ist die rechte Liebestreue - Die Treue im Kleinen
of Carl Johann Philipp Spitta.