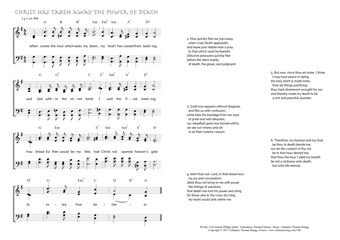 Christ My Song - 148
When comes the hour which seals my doom - Christ has taken away the power of death (Carl Johann Philipp Spitta/Richard Massie/Johannes Thomas Rüegg)
Christ has taken away the power of death.
1. When comes the hour which seals my doom,
my heart has ceased from beating,
and laid within the silent tomb
I wait the final meeting;
how dreadful then would be my fate,
had Christ not opened heaven's gate
to every true believer. PDF - Midi
2. How quickly flee our joys away,
when cruel Death appeareth,
and leave poor feeble man a prey
to that which most he feareth!
Delusive pleasures quickly flee
before the stern reality
of death, the grave, and judgment.
3. Guilt now appears without disguise,
and fills us with confusion,
while falls the bandage from our eyes
of pride and self-delusion;
our steadfast gaze now turned within,
we see our misery and sin
in all their hateful colours.
4. Wert thou not, Lord, in that dread hour
my joy and consolation;
didst thou not bring to me with power
the tidings of salvation,
that death has lost his power and sting
for those who to thy cross do cling,
my heart would sink within me.
5. But now, since thou art mine, I thine,
I may have peace in dying,
thy holy merit is made mine,
from all things justifying;
thou hast atonement wrought for me,
and thereby made my death to be
a rest and peaceful slumber.
6. Therefore, my Saviour and my God,
be thou in death beside me,
nor let the comfort of thy rod
be in that hour denied me;
that thus the hour I yield my breath
be not a sickness unto death,
but unto life eternal.
Richard Massie, Lyra Domestica I, 1863, 136-137.
Translated from the German Wenn meine letzte Stunde schlägt - Christus hat dem Tode die Macht genommen
of Carl Johann Philipp Spitta.